Column
All five orders available
Transmits weights of structure above
Works best under compression
Three stages: stable equilibrium, neutral equilibrium, and instability.
Get 13 % discount by ordering before March 31.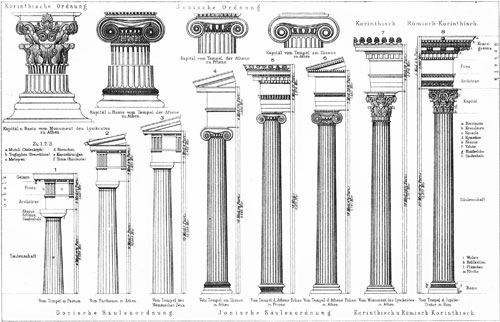 Column or pillar in architecture and structural engineering is a structural element that transmits, through compression, the weight of the structure above to other structural elements below. In other words, a column is a compression member. The term column applies especially to a large round support with a capital and base and made of stone, or appearing to be so. A small wooden or metal support is typically called a post, and supports with a rectangular or other non-round section are usually called piers. For the purpose of wind or earthquake engineering, columns may be designed to resist lateral forces. Other compression members are often termed "columns" because of the similar stress conditions. Columns are frequently used to support beams or arches on which the upper parts of walls or ceilings rest. In architecture, "column" refers to such a structural element that also has certain proportional and decorative features. A column might also be a decorative element not needed for structural purposes; many columns are "engaged", that is to say form part of a wall.
As the axial load on a perfectly straight slender column with elastic material properties is increased in magnitude, this ideal column passes through three states: stable equilibrium, neutral equilibrium, and instability. The straight column under load is in stable equilibrium if a lateral force, applied between the two ends of the column, produces a small lateral deflection which disappears and the column returns to its straight form when the lateral force is removed. If the column load is gradually increased, a condition is reached in which the straight form of equilibrium becomes so-called neutral equilibrium, and a small lateral force will produce a deflection that does not disappear and the column remains in this slightly bent form when the lateral force is removed. The load at which neutral equilibrium of a column is reached is called the critical or buckling load. The state of instability is reached when a slight increase of the column load causes uncontrollably growing lateral deflections leading to complete collapse.